Welcome to UrbanFlow
Wir sind zwei Designer in Berlin und arbeiten seit vielen Jahren immer wieder gemeinsam an Projekten.
Uns begeistern dabei virtuelle Welten, Grafik und Animation ebenso wie die ganz konkrete Gestaltung mit Holz und anderen Werkstoffen.
Wir sind sehr vielseitig und immer neugierig auf Neues.
---
---
We are two designers in Berlin, Germany, working together on projects for many years.
We're just as enthusiastic about virtual worlds, graphics and animation as about the very tangible work with wood and other materials.
We cover a wide range of skills and are always curious about new things to explore and learn.
Die Filmschnecke
Die Zusammenarbeit begann schon in Susanne Kohls Architekturstudium an der berliner HdK (heute UdK), wo wir obige "Filmschnecke"" entwickelten, die durch mechanisches Kurbeln eine am Rechner erstellte, bildweise auf Karton-Platten gedruckte Morph-Sequenz, basierend auf Bildern aus dem Film "Letztes Jahr in Marienbad" zeigte.
Wir lieben diese Art von Hybrid-Projekten, wo sich archaisches mit hochaktueller Technik verbindet.
---
Our work together started already during Susanne Kohls architectural studies at the HdK in Berlin (now "UdK"), where we designed the above "Filmsnail", which by turning the crank showed a computer-morphed sequence based on images from the movie "Last year in Marienbad", which were printed out on individual cardboard sheets.
We love this kind of hybrid-projects where the archaic comes together with the latest tech.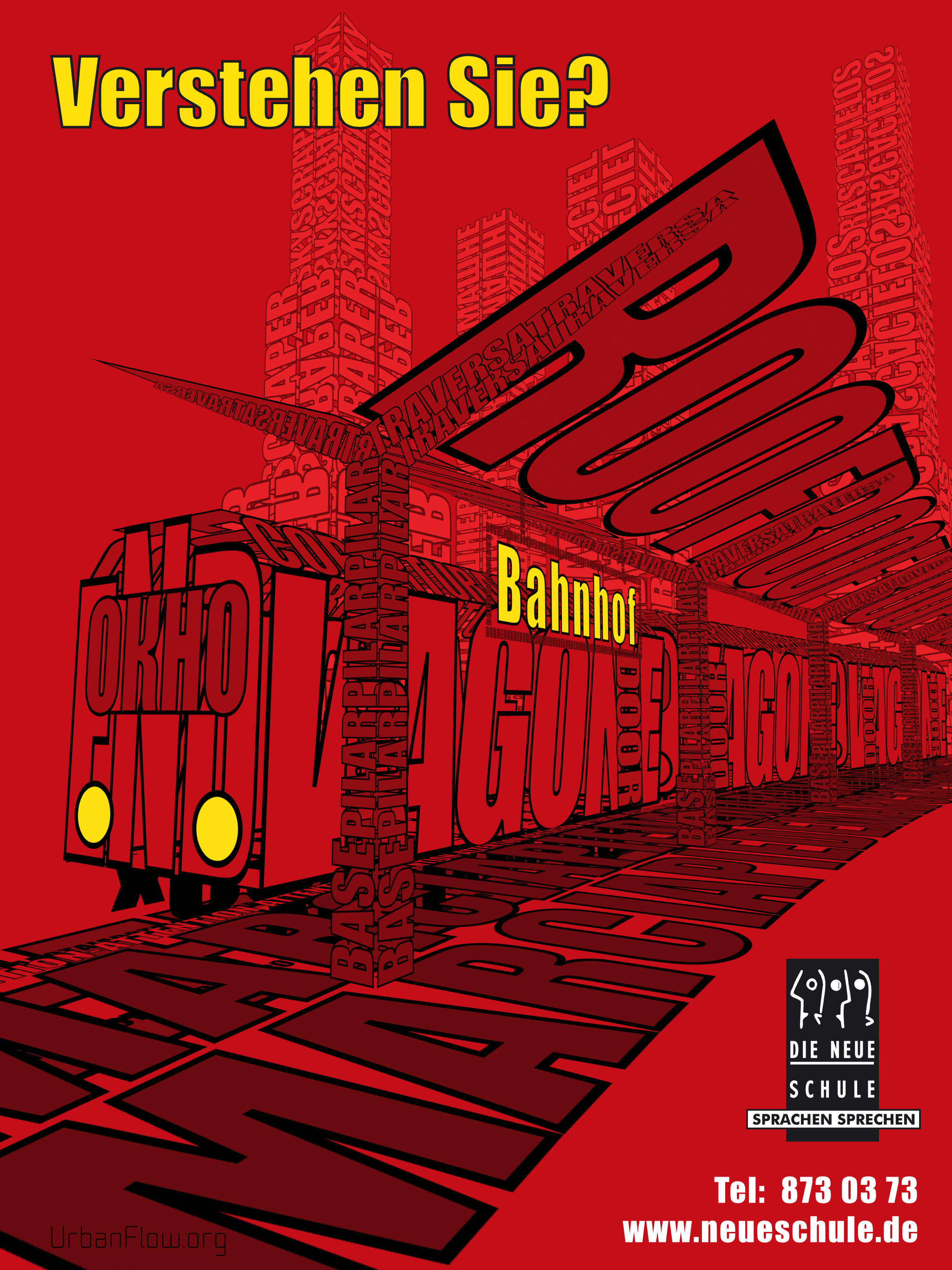 Graphics, Animation, 3D...
Unsere Zusammenarbeit erstreckt sich über viele Bereiche. Von Grafiken wie obige ganzseitige Anzeige der Sprachschule "Die Neue Schule" in Berlin über Großprojektionen auf Messeständen bis hin zu 3D Animationen aller Art und in den letzten Jahren zunehmend auch konkretes Design für Produkte, Räume und Instrumente.
---
Our work spans many areas. From print graphics like the above full-page ad for the language school "Die Neue Schule" Berlin, large-screen projections for exhibition stands to 3D Animations of all kind. And over the last couple of years also designs for products, rooms and instruments.
"The Seed"
...und eigentlich wollten wir für diese Seite einige weitere Design Entwürfe visualisieren, als Stück für Stück ganz andere Ideen zu Tage traten und wir nun eine Graphic Novel entwickeln, Arbeitstitel "The Seed"... :-)
Aber wir arbeiten natürlich auch weiterhin an Kundenprojekten - kontaktieren Sie uns gerne über unsere individuellen Websites!
---
...and just when we wanted to visualise some more designs for this page, bit by bit something totally different showed up and now we are developing a graphic novel, working title "The Seed"... :-)
But of course we also continue to work on other jobs, so feel free to contact us via our indiviual homepages above!